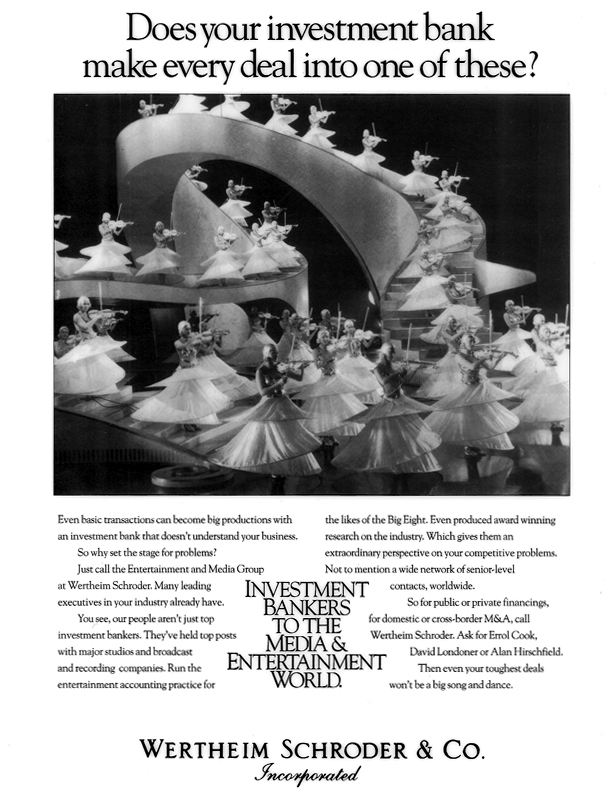 Wertheim Schroder
Investment bank Wertheim Schroder had chosen to specialize in certain niche markets. Among them, the entertainment industry. Because Schroder had brought in a number of industry heavyweights, it could legitimately claim to have far greater expertise in this area than the typical investment bank. For years after this campaign ran, Wertheim Schroder had a lock on investment banking to show business and is still a major player despite the defection of some of its key bankers.
Copy:

Does your investment bank make every deal into one of these?
Even basic transactions can become big productions with an investment bank that doesn't understand your business.

So why set the stage for problems?

Just call the Entertainment and Media Group at Wertheim Schroeder. Many leading executives in your industry already have.

You see, our people aren't just top investment bankers. They've held top posts with major studios and broadcast and recording companies. Run the entertainment accounting practice for the likes of the Big Eight. Even produced award winning research on the industry.

Which gives them an extraordinary perspective on your competitive problems. Not to mention a wide network of senior level contacts, worldwide.

So for public or private financing, for domestic or cross- border M&A, call Wertheim Schroder. Ask for Errol Cook, David Londoner or Alan Hirschfield.

Then even your biggest deals won't be a big song and dance.

Wertheim Schroder & Co.